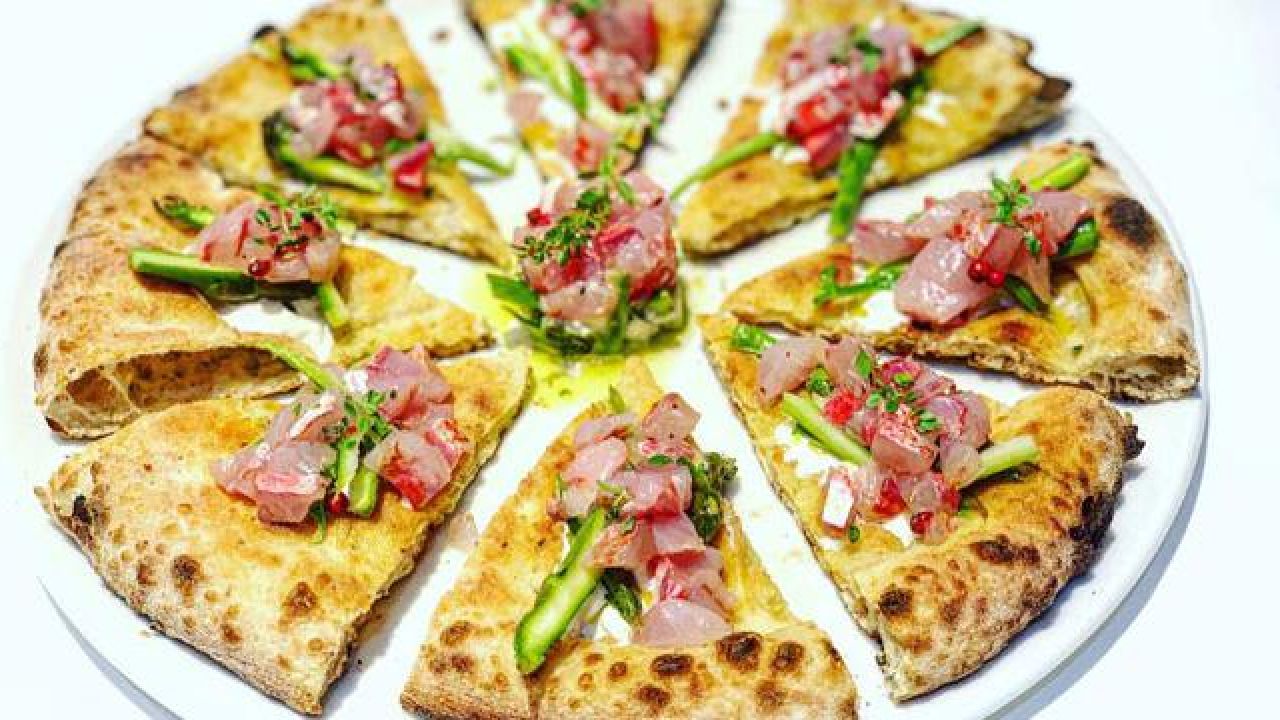 The `` Gazzetta del Mezzogiorno '' talks about the pairing of Giuseppe Riontino's gourmet pizza (Canneto Beach 2, Margherita di Savoia) paired in contrast by the professional Sommelier Antonio Riontino, brother and manager of the Canneto Beach 2 reality, iconic for the Apulian cuisine !
Here is the recipe and the pairing:
Ingredients for 4 people:
For the preparation of the pizza:
 • 800 g organic whole wheat flour from Puglia;
 • g 200 Senatore Cappelli flour;
 • cl 600 water;
 • 0.50 g mother yeast;
 • 1 g brewer's yeast;
 • 25 g salt;
To fill the pizza:
 • 2 red mullets;
 • g 250 wild asparagus;
 • g 150 stracciatella from Gargano;
 • q.s. thyme flowers;
Method:
Put all the flour in a planetary mixer.
Dissolve the yeast in the water and add it a little at a time, then add the mother yeast.
Once everything is well mixed, add the salt with a little water.
Let it rest for 30 minutes, then divide and form the balls.
Let it rise for 2/3 days in the fridge, put it out in the morning and complete the leavening with 8 hours at room temperature at 25C for a total of 56/72 hours of leavening..
Bake in the oven 350 / 380C..
To stuff, fillet the mullets and cut them into cubes, marinate with pink pepper and salt.
Clean the asparagus and cut them into julienne strips, marinate them with lemon peel, sugar and salt, shred the stracciatella.
Wine:
CLOE MARIE KOTTAKIS
CHAMPAGNE -52 UNDERWATER
100% Pinot noir
Dosage 0 g / L vol. 12%
A combination by contrast: with the sweet tendency and fatness of the pizza, the effervescence creates a perfect combination for both the structure of the pizza and the wine.